State-of-the-Art Eye Care
From Round Rock Eye Consultants
Types of Eye Exams
Comprehensive Eye Exams
Round Rock Eye Consultants offers full eye exams, including a refraction with a glasses prescription. Your eyes will most likely be dilated as part of the exam to better assess the health of your entire eye.
During the course of the exam, we will be screening for any potential eye problems or disease. Please inform the staff of any previous eye diagnoses or family ocular history.
Contact Lens Exams
Dr. Meyer and the clinical staff members at Round Rock Eye Consultants have vast experience with lens fitting and will work with you to find the right contact lens for your vision and medical needs.
There will be additional charges for contact lens fittings, but this includes contact lens trials, as well as training. We fit both soft contact lenses, including toric and multifocal lenses, as well as gas permeable lenses.
Please bring any contact lenses and asociated information with you to your appointment.
Cataract Evaluation
Dr. Meyer has been performing cataract surgery for nearly 20 years. He will determine whether your cataract requires surgery and which procedure is right for you.
Round Rock Eye Consultants is proud to offer laser-assisted fermtosecond cataract surgery, in addition to traditional cataract surgery.
Diabetic Exams
The incidence of diabetes mellitus is rising steadily, and one major long-term consequence of this disease is diabetic retinopathy. This condition can lead to severe and sometimes permanent vision loss. Dr. Meyer will screen you for any diabetic complications. If such complications exist, he will advise you on the best course of action, including communicating with your primary care physician and/or endocrinologist, and recommending whether treatment should be initiated.
We work with several excellent retina specialists in the area and may refer you to one of them if deemed necessary.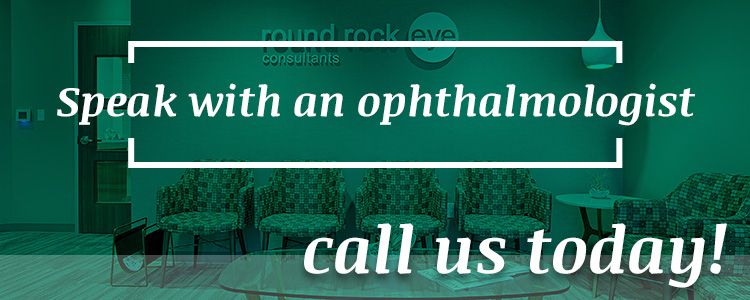 Contact An Ophthalmologist Today
If you've decided that it's time to see an ophthalmologist, contact your local eye experts in Round Rock. At Round Rock Eye Consultants, we're always ready to help our patients diagnose eye issues early and take steps to eliminate the issue before it gets too bad. Contact us today to set up an appointment.